In July 2022, after Covid-19 travel restrictions had eased worldwide, Nii Obodai curated a Gold Matter's exhibition of his photographs at NUKU Studio in Tamale, Ghana. The exhibition coincided with the Fourth Triannual Conference of the Ghana Studies Association, and was hosted jointly by the Ghana Studies Association, The Nordic Africa Institute (SE) and Leiden University (NL).
To hold a real-life exhibition after two years of lockdowns and virtual working was energising for the Gold Matter's team. It also provided fresh impetus for Nii's plans to mentor aspiring Ghanaian photographers through NUKU Studio.
Importantly, the opening of the exhibition was attended by several miners who had been involved in the creation of the visualizations: Zakari Imrana, Haruna Bashiru, Lamisi Yiwaali and Nana Sharpstone, miners from Gbane village, travelled to Tamale for the launch.
They had collaborated in the filming of 'Gold Matters in Kejetia (Gbane, Ghana) – Future makers',  of which a preview was shown at the launch.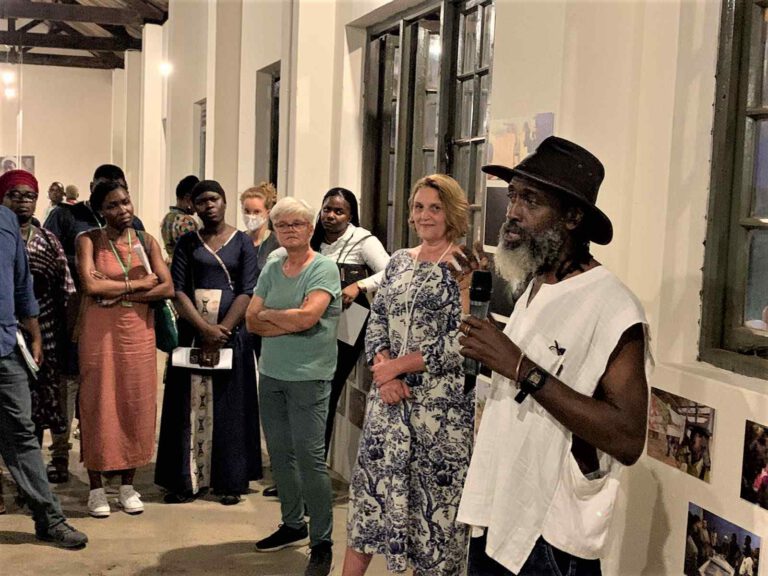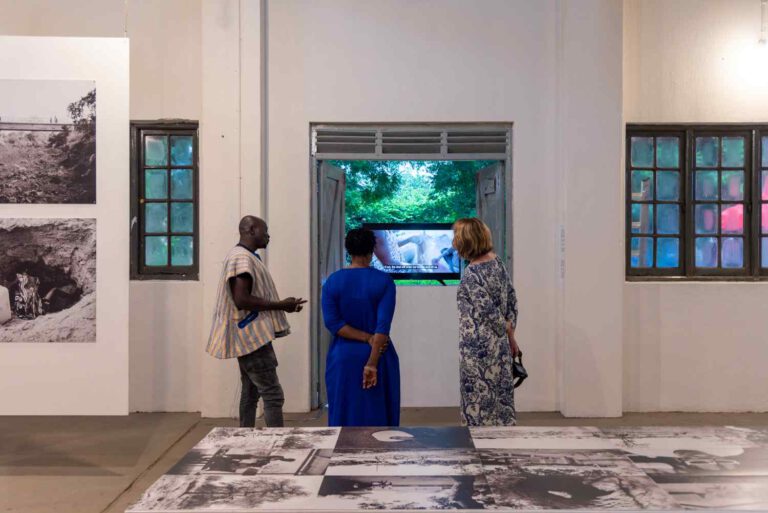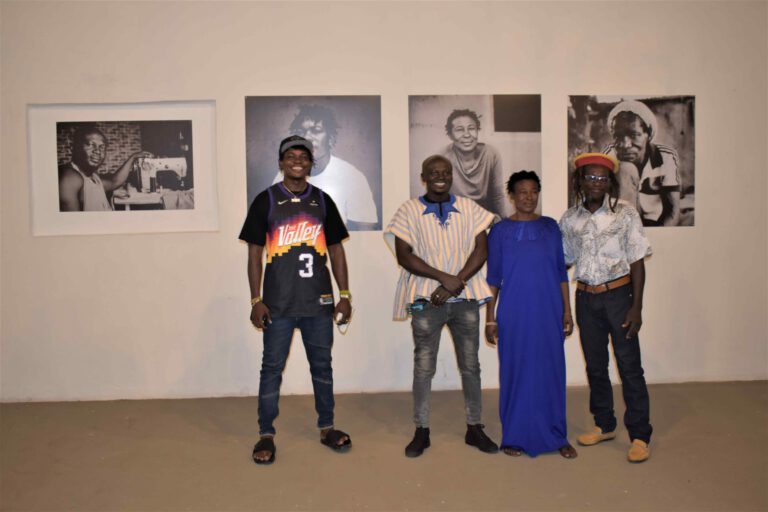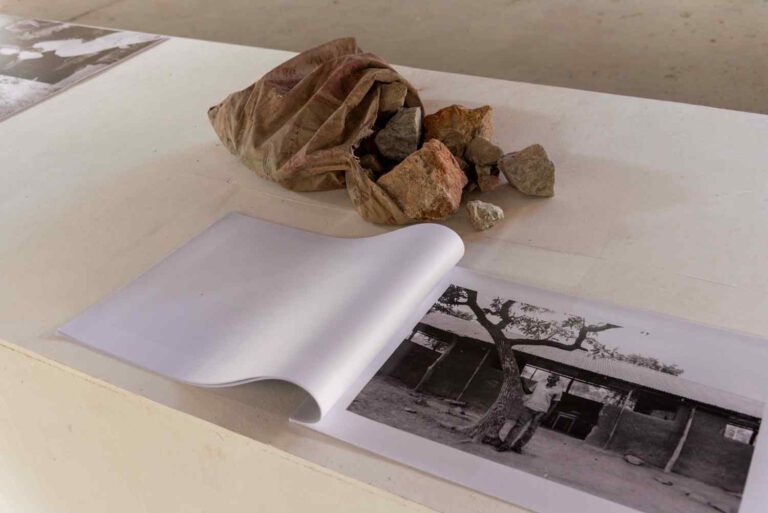 Photo credits: Juergen Strohmajer, Eleanor Fisher, Cristiano Lanzano, Abosede George
Gold Matters: Visualizing Mining Worlds
Collaboration centring on visualization of mining lives and terrains has been key to the Gold Matters project.
Gold miners, researchers and artists have been involved in these collaborations and we envisaged that the results would feature in pop-up exhibitions at various mining places in West Africa, Uganda and the Amazon.
The lockdown situation cut the ambition for organizing traveling exhibitions short. As an alternative we made an on-line exhibition which could be viewed from wherever one is in the world.
At the virtual launch in September 2021, we presented the on-line exhibition as provisional, as a work in progress.
At the occasion, we expressed the wish to build on this exhibition, like we would have done with the traveling pop-up exhibitions. Now we are finalizing a major follow-up to the on-line exhibition: a photobook entitled Gold Matters: Visualizing Mining Worlds.
In various chapters we share key insights and visions on small-scale mining worlds and lives of members of mining communities. In different chapters with titles such as Co-labouring, Artwork & Exhibitions, Moving Matters, Gold Lifeways and Art & Artisanal Gold Mining, some of the photographic work portrayed in the on-line exhibition is presented again. But, and maybe more importantly, substantial new work and stories have been added.  
The book will portray how our visual co-labouring has been extended to making a film in Burkina Faso in June 2021 and organizing a real-life exhibition in Ghana in July 2022.
Photo credits: Nii Obodai
Three collaborative Gold Matters films are coming out in 2022!
O ouro surpreende a gente - Gold surprises us
Building on their friendship of over fifteen years, miner Pretinha and anthropologist Marjo de Theije started to collaborate in a joint film project in Suriname in the course of 2022.
In July 2022, Pretinha and Marjo engaged in making a film project on gold lifeways in Suriname. A crew, under the guidance of film director Júlia Morim de Melo and Marjo de Theije, filmed at the garimpo (goldmine) with Pretinha and several of her Brazilian co-workers in the Brokopondo region of Suriname and in Paramaribo.
Photo credits: Júlia Morim de Melo
Gold Matters in Kejetia (Gbane, Ghana) - Future makers
In June 2022, Sabine Luning and Nii Obodai teamed up with three miners of the mining community in Gbane in northern Ghana:  Lamisi Yiwaali, Zakari Imrana, and Haruna Bashiru.
Together they discussed how the miners would like to portray their lives and mining worlds and wrote a film scenario together. They thought of scenes and narratives to show the place of mining in their lives, as well as their ambitions and perspectives on the future. Later they were joined by the filmmaker and director Gideon Vink and his close collaborator Massihoud Barry. They had come from Burkina to collaborate in making this film.
This has resulted in the 15-minute documentary entitled: 'Gold Matters in Kejetia (Gbane, Ghana) – Future makers'
Photo credits: Sabine Luning
Gold Matters in Tarkwa (Ghana) – Taking Small-Scale Mining to the Next Level
In August 2022, Sabine Luning collaborated with Benjamin Ampiah, Ebenezer Mannah, and Anthony Acquah to develop a script for filming the world of small-scale miners in Tarkwa.
Together they wanted to show how small-scale mining is intertwined with the history of this industrial mining town, how current gold mining practices involve collaborations between Ghanaians and Chinese, and how the government is trying to organize the small-scale mining sector.
Gideon Vink, Massihoud Barry, and Souleymane Drabo later joined from Burkina to collaborate in the actual filming.
This has resulted in the 15-minute documentary entitled: 'Gold Matters in Tarkwa (Ghana) – Taking Small-Scale Mining to the Next Level'.
Photo credits: Sabine Luning