Gold miners debated the paramount important and uncertain drivers of ASGM in relation to sustainability and envisioned four worlds and one priority accordingly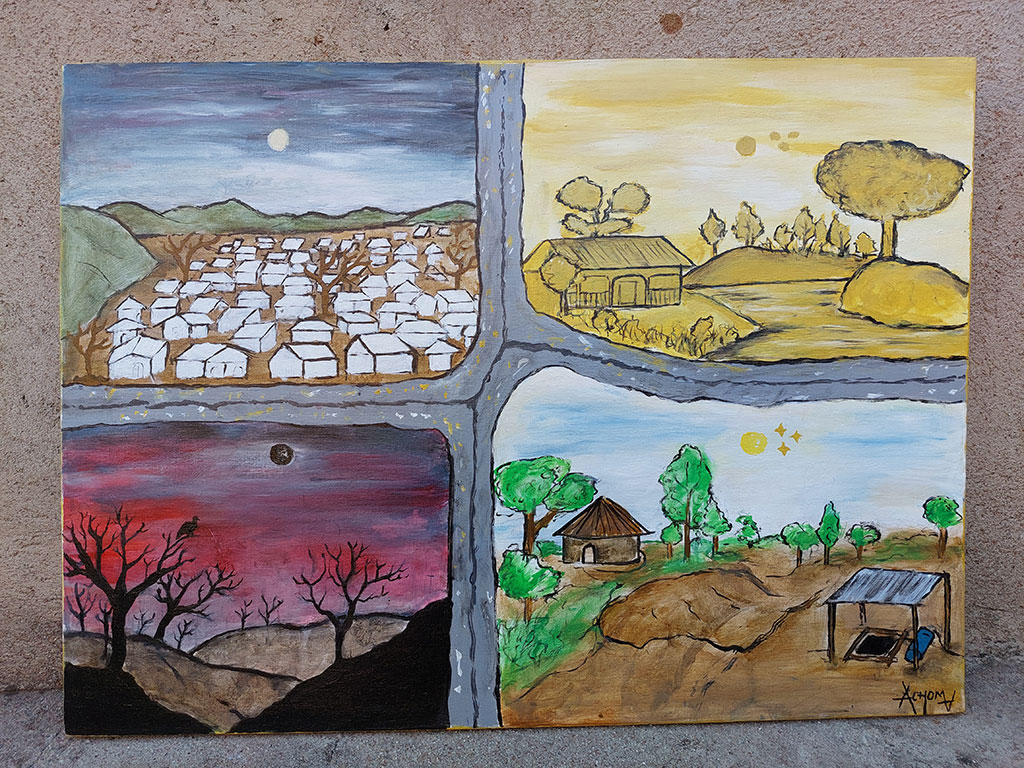 This painting visualizes four worlds that small-scale gold miners in Busia District, Uganda, have envisioned for 2042. The worlds cover the extremes of the most important and most uncertain drivers of ASGM and sustainability: land ownership and empowerment of ASM. Artist: Achom Agatha.
As part of a last PhD fieldwork, in 2022, I collaborated with fourteen leaders of several Artisanal and Small-scale Mining Organizations (ASMOs) in Busia District to do a Scenario Planning workshop. This Scenario Planning was a transdisciplinary method that used both artistic and scientific principles to i) pinpoint two paramount uncertainties of Busia's gold mining future, ii) envision four worlds that cover the extremes of those uncertainties, and iii) prioritize strategies accordingly (Masterclass 2015). This was the driving question of our workshop: "considering the coming 20 years, how can we continue to develop a sustainable gold mining business?"
The workshop took place at the new school located on the edge of the village trading center, where the noises of ball mills and other mining machines were out of ear's reach. The lawn surrounding the school showed traces of the exploration for gold that was put on hold in support of building the school. Tranquility and spatiality market the atmosphere of the school terrain. At the end of the day's workshop, the terrain's calm atmosphere felt like a silence before the storm.
The main take-home message of the workshop was the threat that miners increasingly felt that they would lose their land. A miner explained: "a big storm is coming, because little do we know that we are sitting on the richest gold belt of East Africa and nothing can stop them from evicting us." This threat and awareness impacted the way that miners negotiated their various strategies for sustainable futures.
The small-scale mining professionals identified – in relation to their gold mining future and its transformations to sustainability – two paramount uncertainties, four worlds, and one strategy. The two uncertainties were land tenure (indefinite land ownership or loss of land)[1] and empowerment of artisanal and small-scale mining (high or low). Other important drivers were education, attitude, technology and investments. Along the axes of the two uncertainties, they envisioned four worlds: 'Out of our hands' (land loss – high empowerment), 'Gold in our hands' (land owned – high empowerment), 'Misery world' (land loss – low empowerment) and 'Promising world' (land owned – low empowerment). Miners concluded that a fundamental strategy should be to survey the land: certainty of land ownership enabled and strengthened investments in other measures that miners are engaged in, such as underground mining, substitution of mercury and land reclamation.
[1] This corresponds to the land tenure systems freehold and leasehold out of the four types of land tenure in Uganda.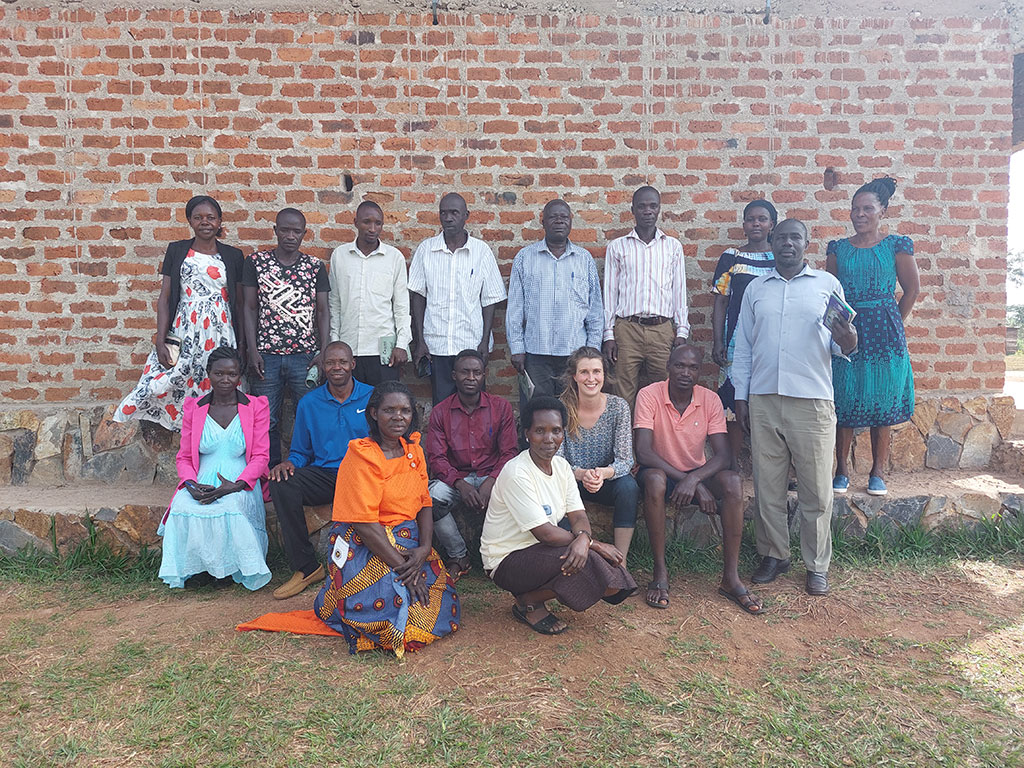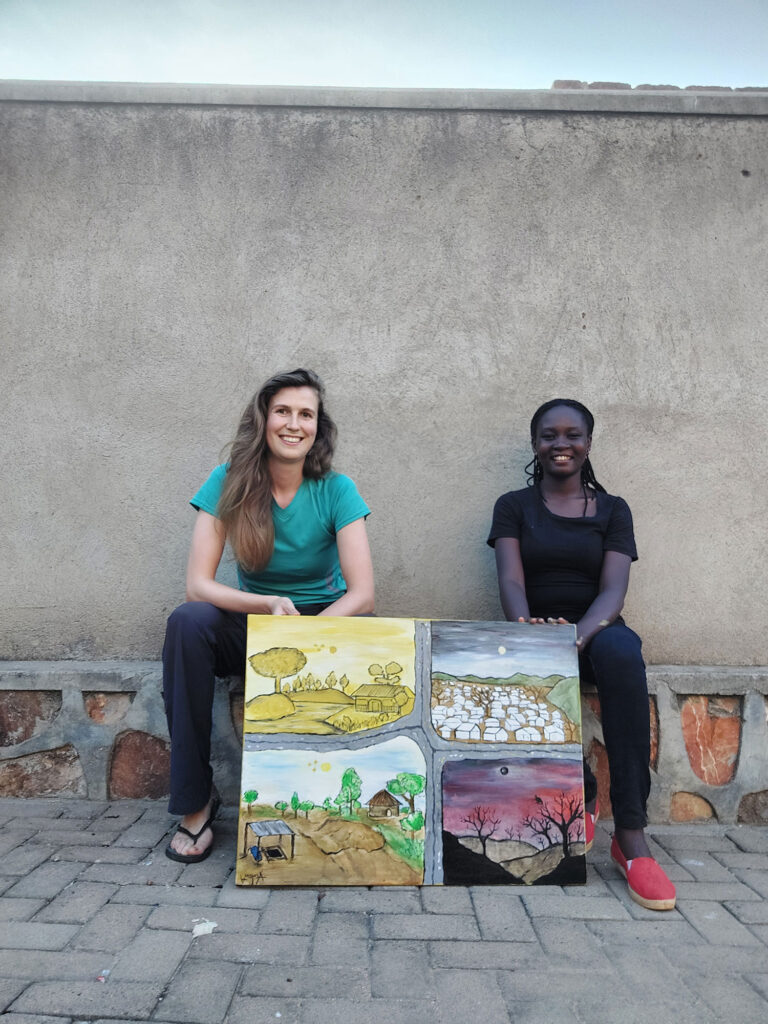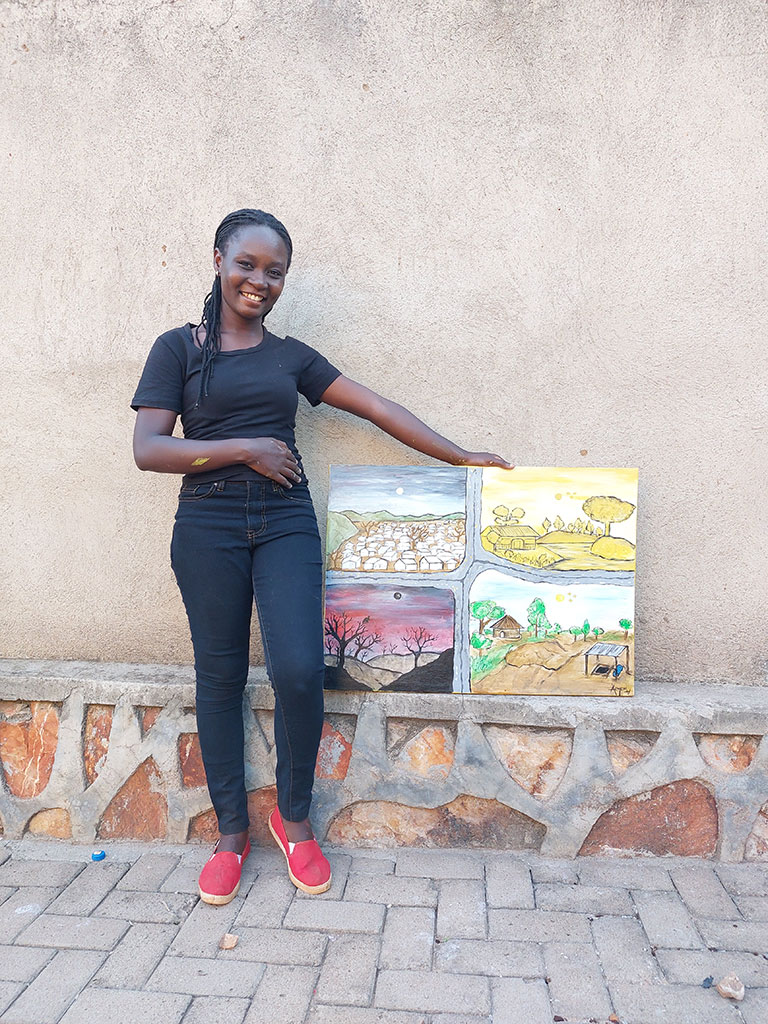 Esther van de Camp is a Ph.D. student from Leiden University (NL)
Workshop team:
ASMO representatives: Aguttu Josephine, Amoding Beatrice, Angesu Paul, Apio Everlyn, Engidoh Paade, Kataike Margaret, Wabwire Simon, Masinde Betty, Naume Sarah, Olaro Augustine, Omoit Eriya, Omukaga Alex, Ujaala Robert and Samanya Isaac.
Host: Ongurata Richardson, headmaster of Tiira Golden Primary School in Tiira Town Council
Artist: Achom Agatha from Busia District, Uganda
Facilitators: Marauni Shadrack, youth representative in Busia District & Esther van de Camp, Leiden University
Masterclass (2015) Mastering the Future with Scenarios: Report of 3-day Masterclass with Ulrich Golüke September 11-12-13, 2015 Scenario Planning Masterclass.
Gold Matters: Sustainability Transformations in Artisanal and Small-scale Gold Mining: A Multi-Actor and Trans-Regional Perspective is a transdisciplinary research project which aims to consider whether and how a transformative approach towards sustainability can arise in Artisanal and Small-scale Gold Mining (ASGM). For more information see www.gold-matters.org.